Nine Midwest Division drivers won their class at the 2023 Tire Rack SCCA National Solo Championships Sept. 5-8 in Lincoln, NE.
Olivia Hammac, St. Louis – Super Street Ladies, Lotus Evora (2)
Sue Eckles, Nebraska – A Street Ladies, Corvette Z06 (8)
Theresa Walton, Salina – E Street Ladies, Mazda Miata (1)
Ron Williams, Kansas – G Street, Honda Civic Si (10)
Mason Herrick, Nebraska – Solo Spec Coupe, Scion FR-S (7)
Brent Schneekloth, Nebraska – Street Touring Ultra, Mitsubishi Evo IX RS (1)
Ali Wilson, Nebraska – Street Touring Roadster Ladies, Mazda Miata (1)
Elizabeth Whitworth, Nebraska – Classic American Muscle Contemporary Ladies, Mustang (1)
Chris Edens, Arkansas – Xtreme Street B, Mazda Miata (1)
Record Book:
Ron Williams joined a list of five drivers standing 10th on the list of most championships (Men) with his 10th victory.
Total Championships by Division, MiDiv stands fifth with 276.
Most Championships by MiDiv drivers: this year's nine champions ties for our 4th best year (with 2017, 2006, 1987).
This is the 14th time the Nationals have been held at Lincoln Airpark, the most at any single site.
It is also the 14th time in Lincoln, NE, tying Topeka, KS, for second-most in any one city (one behind Salina, KS)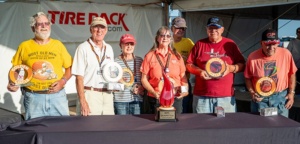 The Golden Circle:
This year marked the 50th Running of the Solo Nationals, and celebrated seven drivers who have competed in all 50, five of whom are MiDiv drivers. The seven 100%ers, inaugurated as the charter members of the Golden Circle, are, from left:
Rocky Entriken, Salina; George and Dee Schweikle, Central Kentucky; Susan Anderson, Southern Illinois; Rick Ruth, St. Louis; Dick Berger, Kansas City, and Charlie Clark, Kansas City.
Added to the Silver Circle (competed in 25 Nationals) were Jim French, Wichita; Frank Wietharn, Kansas, and Dave Whitworth Jr., Nebraska.